Welcome to RealEstateCrowdfundingDotCoza – The first ever Commercial and Development property portal of its kind in South Africa!

What is Crowdfunding?
Crowdfunding is a practice of funding a project or a venture by raising funds from a number of individuals, typically via the internet.
The concept of crowdfunding, also known as collective fundraising has been around for a long time, e.g. in 1885 in the United States –  funds were raised in this manner in order to put up the Statue of Liberty in New York City.
Traditionally, commercial real estate has been one of the most lucrative property investments in the market, however, it was mainly available to only the very wealthy.
RealEstateCrowdfundingDotCoza is an online platform enabling investors to participate in property investments previously only available to the high net worth individuals. Now smaller investors can own shares in lucrative property opportunities with smaller amounts of money than normally required.

How Does It work?
The Platform
We list pre-approved and qualified opportunities in the commercial, retail, industrial and development projects.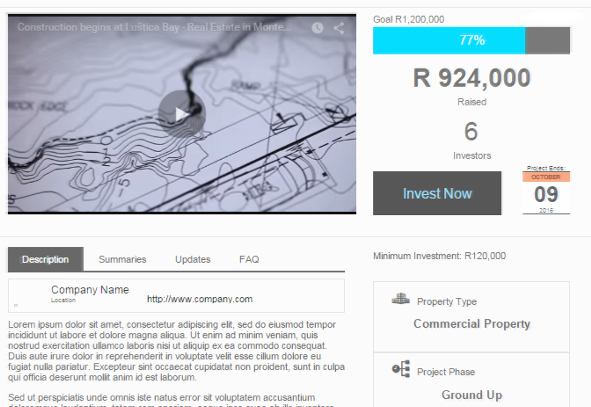 Every property investment opportunity that undergoes a due diligence process. We list qualified, sound properties and development projects that comply with industry standards. As part of the due diligence, we obtain all relevant documents – including, but are not limited to title deeds, municipal accounts, zoning information, plans, independent property valuations, feasibility studies, financials, income and expenditure, town planner reports and professional reports, etc.
Investment Details
Each property investment opportunity has a target amount it needs to achieve within a certain period of time in order for the investment to be successful.
When Investor finds an opportunity to his liking, he/she will register his/her interest and request investment details.
Details will be emailed and will contain all the documentation available for the investment.
Whilst the fundraising process is underway, we encourage investors to scrutinize the documentation as part of due diligence process  and inspect properties personally prior to making decisions.
Investment Vehicle and Security
Each property investment will be owned in a separate entity. A shelf company or trust will be formed and used in order to own the particular property.
Shares of the entity will be owned outright and solely by investors. Such entity's sole purpose will be owning specific property and will hold a first covering mortgage bond over the property as security for investors.
Making the Investment
If an investor is satisfied with the Due Diligence, he/she will log into the website and register their interest and pledge a certain amount of money.
Your Money
Whilst the funds are being raised, all monies will be held in an attorney's trust account. The funds will only be transferred once the full funding request is reached.
Real-Time Data
Investors will be able to manage all your Investments via RealEstateCrowdfundingDotCoza website with real-time analytics dashboard or via regular email updates.
Either way, investors will be kept up to date real-time regarding investments and total funds raised.
When Fundraising Is Successful
When target amount is reached, investment listing is closed.  Each investor now owns a certain percentage in the particular entity as per the amount they pledged.
The property will be run and managed by the investors themselves, who would decide on all aspects of their  property investment.
No third party holding or management company will be imposed and the investors will hold full reigns and control for each property. You paid for it – you control it!
All profits and dividends will be split among investors as per their percentage of ownership.
When Fundraising Is Unsuccessful
In case of insufficient funds being raised for the property – all monies will be returned to the investors by the attorneys.

How Do You Start?
Reaching your investment dreams with RealEstateCrowdfundingDotCoza can be as easy as 1-2-3.
You can start growing your property investment portfolio in few easy steps:
Step 1.     Click on the join button and register on our website – it's free! Signing up is easy and membership is for free. This will give you access to the full range of pre-qualified property investments available throughout South Africa.
Step 2.  Go through the list of available properties and development projects.
Step 3.    Choose the ones you like and register your interest. You will then receive a prospectus of the property opportunity for your perusal.
Step 4.     Once you have inspected the documents and/or the property – you then pledge the amount you would like to invest.
You can literally start building your investment portfolio in minutes!
When fundraising is successful – you are a part owner of the property and the exciting time begins! You will meet the rest of the investors and discuss the way forward with the property.

And who are we?
We are the Maximum One Property Group – a part of Maximum Group of Companies.
The Maximum One Property Group, partner of RealEstateCrowdfundingDotCoza has been in the Real Estate industry since 1993 and are commercial property investors, brokers, developers and Joint Venture partners.
We have been involved in all aspects of commercial real estate, whether it be in the form of Investors, Developers, brokers, Joint Venture partners or facilitators, advisors, just to name just a few.
We have had thousands of successfully completed property transactions and, therefore, hold a vast amount experience from the ground up.
You can see more about us on www.maximum1property.co.za
All you have to do now is click on the join button and start growing your property portfolio!
Happy investing!
Leave you details below and be the first to know when we go live!
We will let you know when you can start listing your property opportunities.
RealEstateCrowdFunding.co.za is committed to maintaining your privacy and security. We respect the privacy of all of our account holders and the data collected from the forms.